Lee Valley's Winter Seminar Schedule is now online. It includes bowl turning workshops with Mike Mahoney, a talk and workshop by Stephen Zwerling and a pen turning workshop by Darrell Eisner. Check out Education on the menu.
November Meeting
November 16th: Pricing and Marketing
Presented by Don Moore and Steven Zwerling
Time:7pm
Venue: Rona, Bayers Lake.
As was discussed at the last meeting, due to construction at the NSCC Leeds Street, we will not be having meetings at the NSCC for at least the next year.
Rona at Bayers Lake have generously offered the guild a room, at no charge, for this year's meetings.
Maps for the venue are here:
From the peninsula or Dartmouth
Once in the store go to customer service and let them know you're with the guild and they will direct you to a staircase and the meeting room.
Moncton Woodshow
>
The Moncton Woodshow, currently the only woodshow in Atlantic Canada will be held this year on 13th 14th and 15th November at the Moncton Coliseum.
Full details of exhibitors and seminars are here.
October Meeting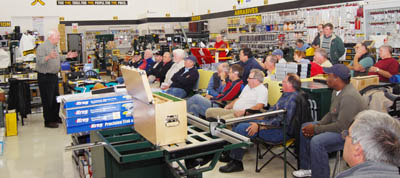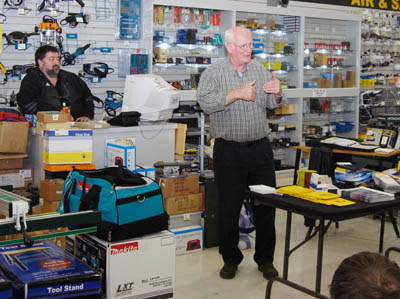 >>
The October meeting with Mel Larson from sia was held at Busy Bee Tools.
On October 19th we were pleased to have Mr. Mel Larson of sia (see-ah) Abrasives as a guest demonstrator.

Mr. Larson gave a general discussion of abrasive grading focusing on the CAMI = Coated Abrasives Manufacturers Institute (North America) vs. FEPA = Federation of European Producers Association. Since sia Abrasives is a Swiss company, they use the FEPA standard which is indicated on the product with a 'P' prefix. (i.e. P220)
He mentioned that garnet is the last significant natural sourced abrasive on the market today and is constantly losing ground to man made compounds such as aluminum oxide (Al2O3) and silicon carbide (SiC). He recommends aluminum oxide for sanding wood.
The other significant aspect is the method of application of the abrasive to the backing. Some manufacturers apply an adhesive to the backing and float abrasive over it to coat. This can cause an uneven surface. Electrostatic depositing of abrasive particles provides a more uniform coating without lumps. Another item noted was that most manufacturers of nonwoven abrasive pads do not put abrasive on the printed side. sia does.
To a question from the gallery, Mel regretted to say that the market for 2" sanding disks was too small for sia to produce. His recommendation was that we could make our own disks from the existing products such as Velcro backed paper and grip sheets.
A lot of information was covered in a very short hour and your reporter will try to list the more significant comments:
Storage - Keep your sandpaper warm and dry. This reduces curling and flexing. Store in a plastic container and maintain above 69 deg. F (17 deg. C). The work should be warm too.
Orbital Sanders - Keep a piece of sandpaper on the pad all the time. This reduces the chance of damage and contamination. If the paper is clogging or you apply too much pressure, you chance ruining the pad from heat transfer damage. To reduce swirl marks, slow down the side motion of the sander. Let it do the work.
Fish Eyes – Stearate is used as a lubricant in sandpaper. Usually not a concern until the final sanding grit. If the stearate is laid on (stripy paper) it could come off and cause contamination to the finish. If baked on, the problem is eliminated and leaves the paper a uniform color.
Don't bother with sanding sealer as such. Dilute your chosen finish 50/50 with solvent and apply. This will penetrate well and act as the sealer. Next coat, dilute finish 90/10 with solvent and full strength for all subsequent layers. This saves money and eliminates brand incompatibility problems.
Chinese veneer is cut too thin. It's so thin that the glue comes up through the pores in the wood and contaminates the surface and nothing is there to sand away.
Each member of the gallery was given a handout on the siaspeed product line and a pack of 5-5" sanding disks to try. Time swept by all too fast and we would like to thank Mr. Larson for giving his time to educate us and to sia Abrasives for allowing him to do so.
Information on sia's product line is available at: sia's wesbite
October Meeting's Show and Tell
A number of pieces were brought in for the October meeting's show and tell
Displaying their work (clockwise from the top left) are Richard Ford, Dale Rayner, Don Allan, Andrew Watson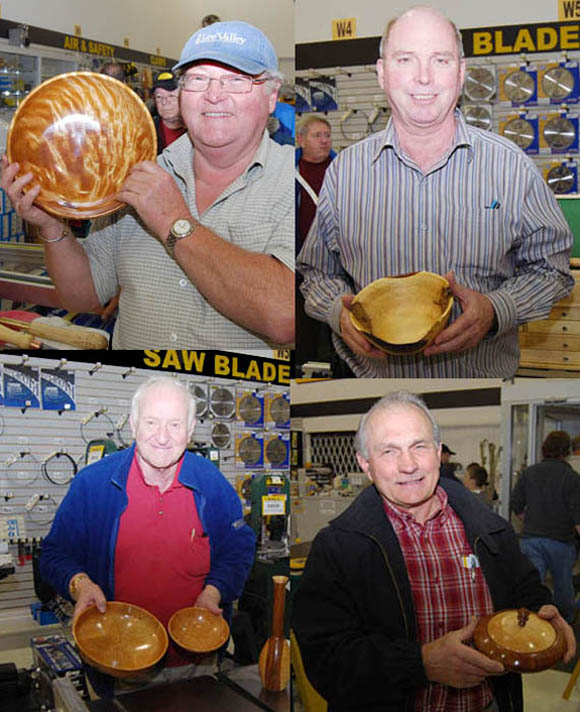 >

>
In addition, Richard Ford brought in some more examples of his ever-increasing armoury of homemade tools, including a specialised scraper and a device for enabling lathe levers on toolrests and tailstocks to be tightened more easily. (Below)

>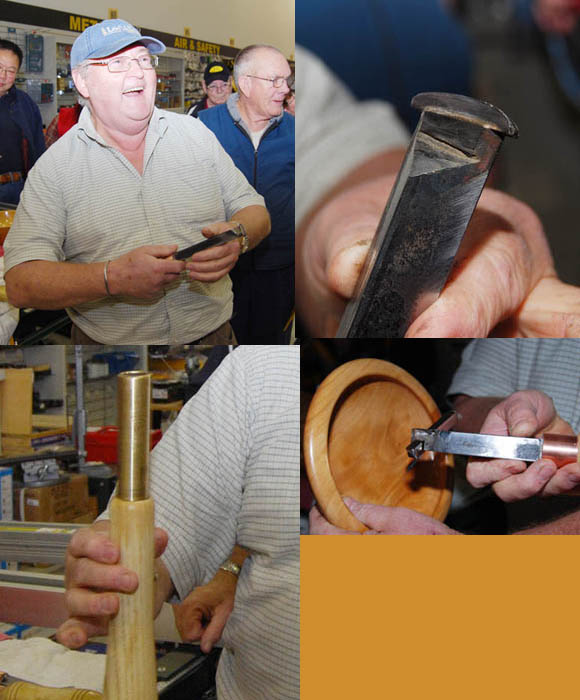 >
... and the Lucky Prizewinners
Halfax Specialty Hardwoods kindly donated a pair of rosewood turning blanks to be auctioned. Jim Flynn (left) was the lucky winner. Doug McGuire won a set of barbeque tools for ... erm .. something or other! He looks happy about it anyhow ..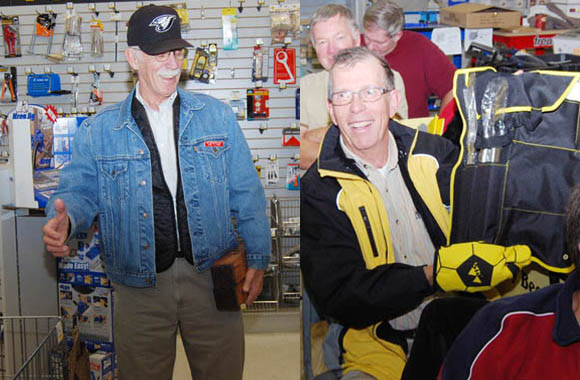 >
Award For John MacNab
Congratulations to lifetime Guild Member John MacNab, who beat four other finalists to win the $25,000 Lieutenant-Governor of Nova Scotia Masterworks Arts Award, for his piece entitled CSDC 3-8 (Compound Spiral Double Cone No. 3, 8 sided), a 7.6-metre-long, double-spiral sculpture turned from red spruce.
The award, which celebrates outstanding contemporary art, was presented at the Creative Nova Scotia Conference in Yarmouth on October 24th.
Clarification
The report from the June AGM said: "Dues were increased to $50 to address possible deficits and increased costs of the woodturning competition at Lee Valley."
Please note that these increased costs are related to judging and prizes not the cost of the room, which Lee Valley generously provides at no expense to the Guild.
Guild Woodturning Competition 2010
The three documents for the 2010 competition are now available to download on the documents section of the website.
The awards will be presented at Lee Valley on Saturday March 6th.
Zalman Amit
Zalman Amit is a master turner from Bridgewater. He currently has a show in Lunenburg. Details below: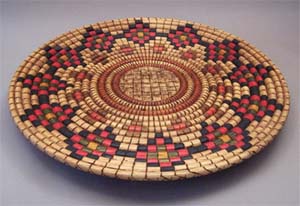 >
In Lunenburg: The show is exclusively of recent work. The opening is on October 31.
Place: Peer Gallery
167 Lincoln St
Lunenburg
Phone: 640-3131
Date: October 31 - November 11
Hours: daily noon - 4 p.m.
Zalman at Lee Valley, from Ted Monk's blog
Wed 21st Feb 2018

If you have any suggestions about the Guild or this website? Click the box ...
Newsletters
2017/2018
2016/2017
2015/2016
2014/2015
2013/2014
2012/2013
2011/2012
2010/2011
Meeting Reports
2009/2010