For Your Diary: Changed AGM Date
---
Please Note: The date of this year's AGM has been changed from the original calendar
---
Monday June 28th 2010
Venue:Home Depot, Lacewood Drive
Time: 6.30 pm
Next Meeting
Monday May 17th 2010
Venue:Home Depot, Lacewood Drive
Time: 6.30 pm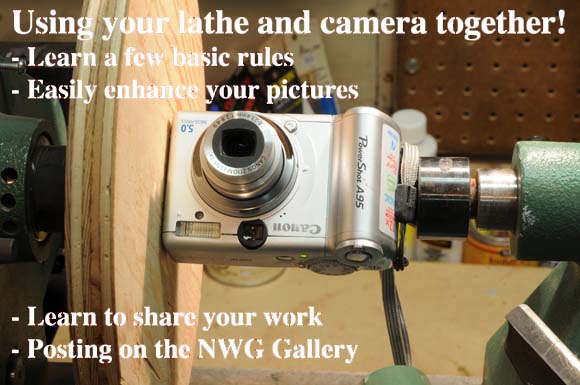 Glenn McCarron will give a presentation on using your camera and lathe together, looking at some basic rules and covering such topics as how to enhance your photographs, share your work and giving some hints on posting to the NWG online gallery.
April Meeting Report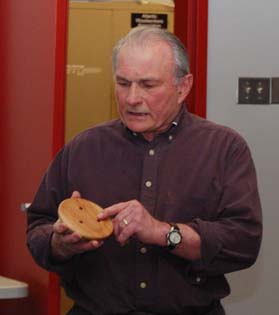 >
Following the display of member's "Fun Turn Pieces" (See below) Don Allen hosted a lively discussion on repair and graceful recovery of turned pieces.
Armed with handouts of the article "Fixing Mistakes by Ernie Conover", Don covered a number of recovery techniques. Each of these was revisited by members with so many variations and improvements, I could only give a summation of each.
Punky /Spalted wood
Paint repeatedly with Future Floor Finish. A clear acrylic paint that has an affinity for water. Keep painting it on until saturation (let dry 2 hours)
Commercial wood hardener sold to repair rotten window sills (Minwax and others)
Lacquer thinner painted repeatedly then turned.
Dints
Steam can usually expand the compressed wood fibers to nearly original height but the trick is to get the steam in there. A small wet pad is placed on the damage. This is then covered by a larger piece of aluminum foil to contain the steam. These layers are quickly warmed with a household iron set on high (cotton). This should blast steam into the dint but not scorch the surrounding wood.

Other Problems

A number of other problems were also discussed: exposed screw holes, turned thru bottoms, found objects (buckshot, loose knots, small cracks, insect damage)




These problems were covered by a remarkable array of returning and plugging ideas.




Redrilling faceplate screw holes and filling with proud plugs makes 3 tiny feet. If in an exposed location they can be plugged with contrasting woods or opened up and embellished with further piercing.
Inlay a ring.
A turned thru bottom is just another plugging job, only on a larger scale.
Other damage can either be hidden by filling the gap with dust from the piece (for the best color match) using shellac or CA glue as a binder. Don Moore always collects dust from cherry as he says its chameleon dust, matches nearly everything. Milk paint powder was recommended for tinting.
On the other hand, fill the gaps with anything contrasting. Brass filings, coffee grounds, colored epoxy, inlace, earth pigments.

Warping

Try to anticipate the warp from the stresses of tree growth. If you don't like what you have, wet the piece and place it in a plastic bag and microwave. The wood becomes pliable and can be twisted into other shapes.

And a final thought. If something went a direction you didn't expect, relax. Don't get angry and frustrated. Give some time to reflect on how you got here and how to prevent it from happening again. Also consider what you just created. Can this be taken in a new and positive direction? Opportunity knocked and it sounded just like a bowl hitting a wall!




Norm Jolivet




A number of members brought in pieces which they had either repaired, or in some cases to ask advice on how to repair.




Clockwise from top left: Andrew Watson, Alan Hunt, Don Shubaly, Jim Diamond's bowl in need in extreme repair(!), Jim Diamond and Gordon Marshall


>
Fun Turn 2010
Back in September 2009, at the first meeting of the season, each guild member was given a piece of 6"x6"x3" mahogany. The task to turn the piece in whatever way you wanted and bring it along to the March meeting. This was delayed slightly this year, due to rescheduling of meetings, but the results were well worth waiting for.
Some of the more organised (or inspired?) members have of course had their pieces ready for months - others (myself included!) were still turning on the day of the meeting after waiting for the wood to "talk to them" - I'm sure that the finish wasn't even dry on some pieces!
From that innocuous looking block members came up with a wide variety of pieces that demonstrated once again the imagination, skills and diversity within the guild.
Objects included boxes and bowls of all kinds, a candleholder, a walking cane and a collaborative sculptural piece.
Each member showed off their creation (or creations) and answered any questions about finishes, techniques etc.
A great meeting - I'm already looking forward to next year's Fun Turn.
Ian Scott
Pieces by (Top to Bottom) Alan Hunt, Robert Atkinson, Stuart Taylor, Ian Scott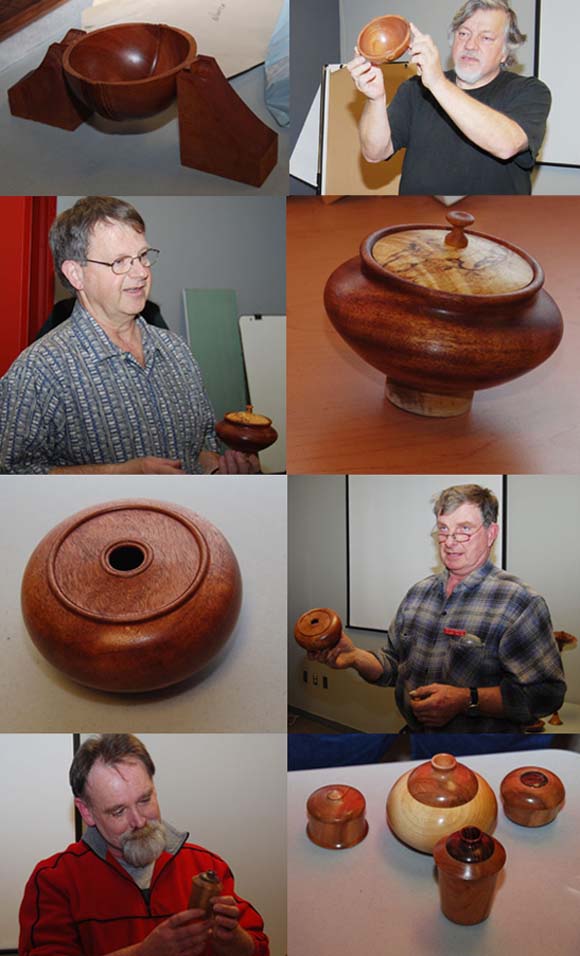 >
Pieces by (Clockwise From Top Left) Glenn McCarron, Richard Ford, Gordon Marshall, Don Shubaly, Dave Richards,Jim Diamond, Dave Wilkins, Norm Jolivet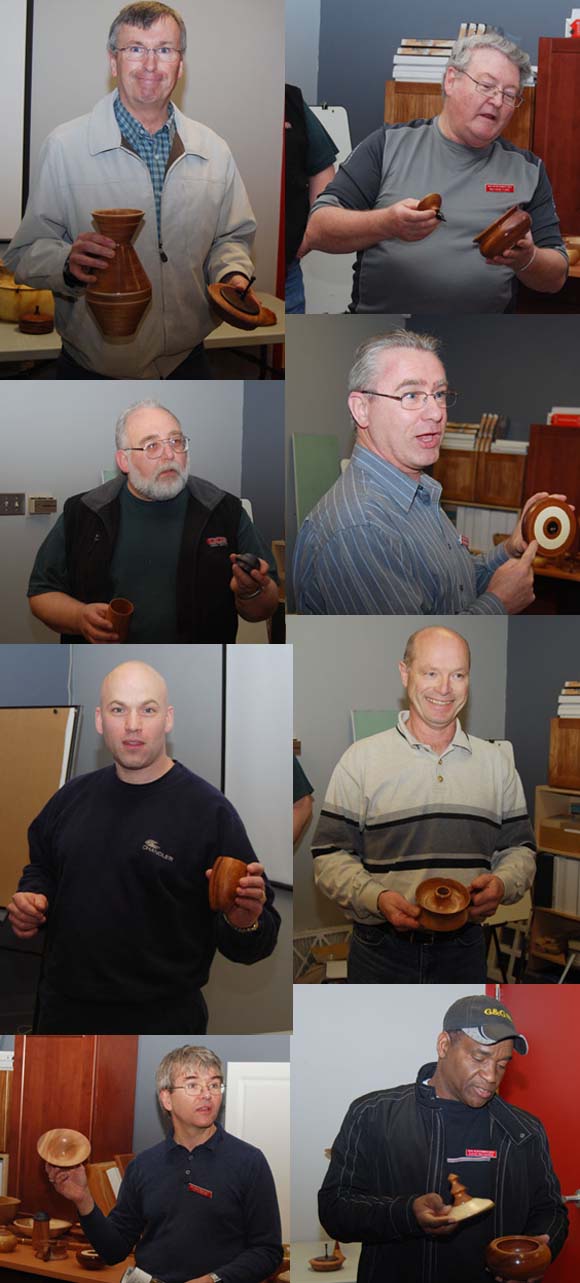 >
Don Moore and Maureen Simpson's Collaborative Piece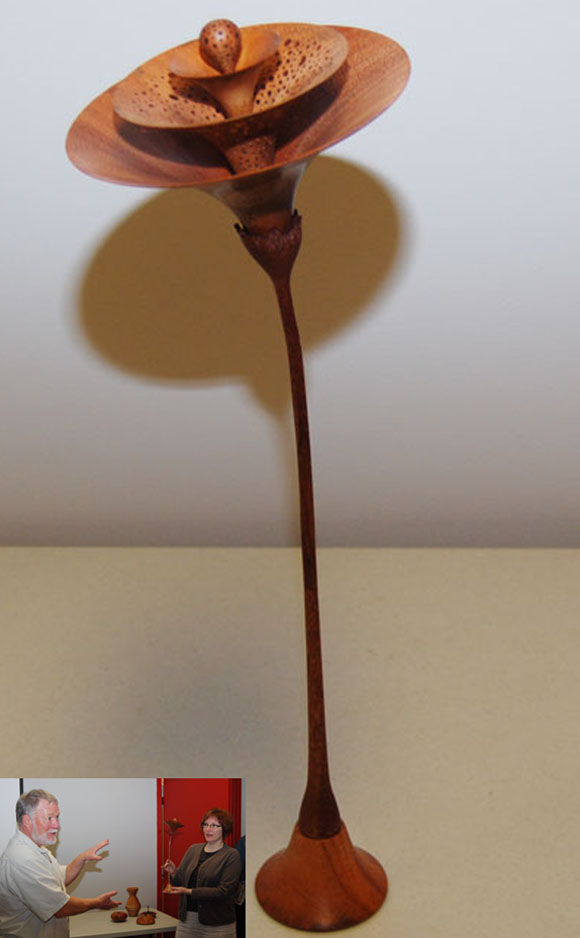 >
Ted Monk's Cane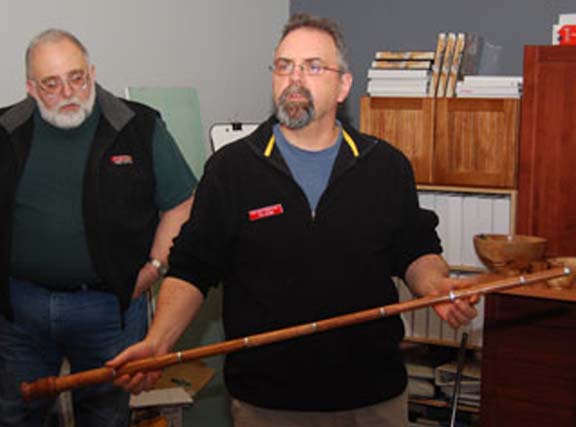 >
An Assortment of Fun Turn and Show and Tell Pieces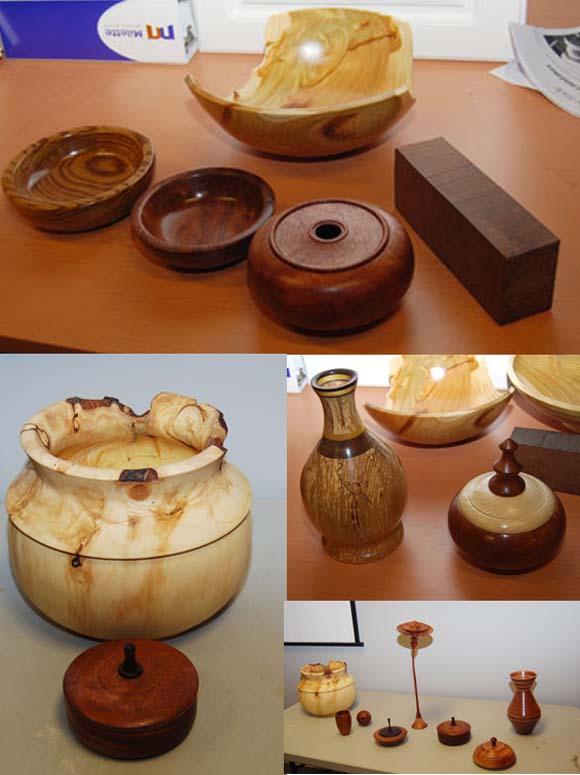 >
Anna Leonowens Exhibition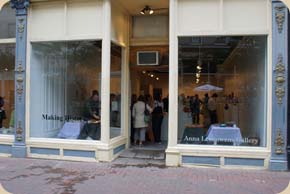 >
The Executive are happy to announce that next November/December we will be hosting an exhibit at the Anna Leonowens Gallery of Nova Scotia College of Art and Design (NSCAD). Everyone is encourage to participate and show their 'best pieces'. In conjunction with the exhibition the Nova Woodturners Guild (NWG) will be fund-raising for a scholarship to be given to a promising NSCAD craft student in need of support. We have a chance to not only strut our stuff but to help promote good crafts-person-ship within Nova Scotia.
We are inviting ALL Nova Scotia woodturners - not only guild members - to participate, so feel free to spread the word amongst any non-guild members you know.
The intention is to present a public show case of woodturning in Nova Scotia - the event is open to all turners and each turner is invited to submit several pieces that demonstrate their turning abilities. Submitted work will be exhibited.
In addition to the showing off turners' work, all turners will be invited to submit pieces that will be 'donated' to NSCAD. NSCAD will host a reception (by invitation) for their major donors, works sold at this reception will contribute money to a scholarship fund - named and directed by the NWG. Turners whose pieces are sold in support of the scholarship will receive a tax receipt in the full amount of the sale. We expect that turners will price their work at a 'gallery' rate - we can do a lot of good, receive great benefits and all at a minimal cost to us individually. Unsold works (hopefully we won't have any!) will be returned to the turner.
As a result of providing 'donations' and establishing a scholarship fund for NSCAD, the following will be provided by NSCAD:
a hosted reception - for major donors and people we may also wish to invite (naturally exhibitors are invited too).


printing and production of gallery invitations (post cards with a glossy picture of a turning), the college sends these out to their supporters and we too get copies to invite friends, fans and others.


Dr. S. Alfoady, Chairperson of Critical Studies has agreed to review the exhibition and write a scholarly essay on it - Sandra is on the editorial board of several Canadian craft publications - she will be getting her essay published in the Studio or Ornamentum journals of craft - we get national coverage. Sandra wants to understand the Nova Scotia turning community and wants to interview a couple of turners before she writes her articles.


the Anna Leonowens Gallery will photograph (each piece) and document the show. All of which will be available to us for our web site. They will provide two students to help with set up and take down and they have a 'wall repair' cart with paint etc. - in case we need to patch anything as we set up. In addition as a full gallery they have plinths and covers in a wide range of sizes to house/secure all our diverse work.


we can have informational posting on walls and near pieces to educate the public, the Gallery has a budget for some of this - we will have to chip in something. In addition turners can have business cards or discrete and neat pamphlets near their pieces, to assist in client development.
Jim Diamond will fret over an article for the UK-published Woodturning magazine and eventually produce one! Woodturning regularly publishes articles about turning guilds worldwide. Alan has volunteered to help with editing it.
The Executive are excited about this opportunity and look forward to everyone's participation.
Should you have any further questions contact Alan Hunt
prof.a.j.hunt@gmail.com
Show and Tell
A number of members also brought in pieces for the show and tell which were not turned for the Fun Turn
These included a spruce burl hollow form from Dan Graham, a laminated hollow form from Dave Richards, two tamarack bowls from Stuart Taylor and a piece from Don Campbell.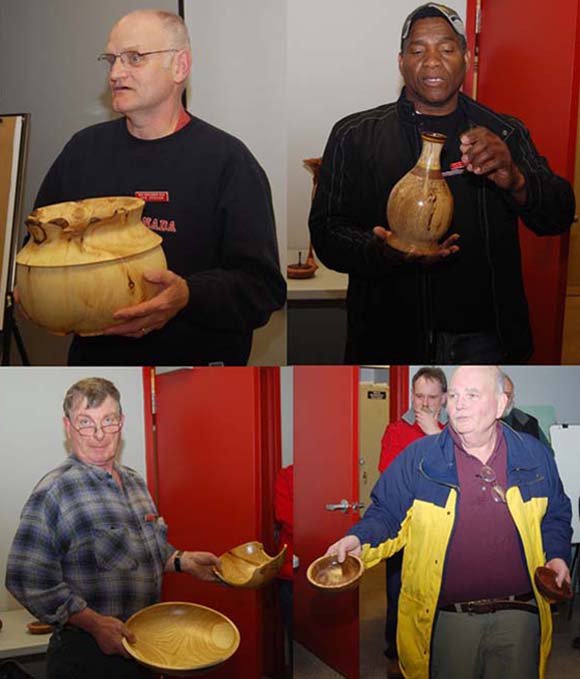 >
Gallery Page
Once again Glenn McCarron has been busy again this month creating galleries for the fun turn, as well as for the show and tell sections of our meetings.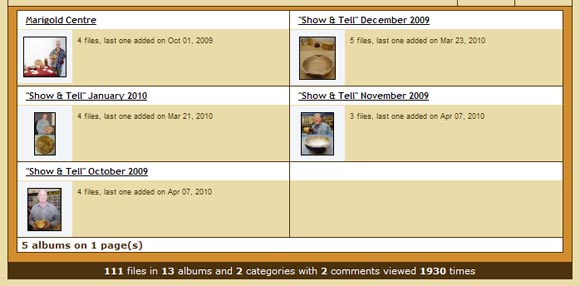 >
It would be nice to see more individual member's galleries created. If you are unsure about how to do this or want any assistance contact Glenn at egscn.mccarron@ns.sympatico.ca
The gallery page is open for non-members to view (unless members set permissions otherwise) but not to post.
A reminder that in order that it can be verified that a poster is actually a member of the guild, could members please use an identifiable name when applying to join - not a series of random letters, their dog's name or their favourite comic book character! :-)
Wed 21st Feb 2018

If you have any suggestions about the Guild or this website? Click the box ...
Newsletters
2017/2018
2016/2017
2015/2016
2014/2015
2013/2014
2012/2013
2011/2012
2010/2011
Meeting Reports
2009/2010